Permagate | JINGART
Text-image

When Zheng Guogu started to work on the Computer Controlled by Pig's Brain series in the late 1990s, he used text only, no images. He excerpted phrases and sentences from pop culture magazines, copied their layouts and font designs, and recreated—re-organised and re-coloured—them on his canvas. In other words, he replaced images—a common component of painting—with textual information from mass media; and this has become one of Zheng's approaches to artmaking ever since.
In the Universe is Expanding, and the World is Getting Compressed 2021 (2016-2021), Zheng used text from the same source. By experimenting with the medium, Zheng attempts to alter the materiality of his work and demonstrate how his understanding of the system of symbols/information has changed over time. He attempts to detect the energy of information and see how the universe within the human body absorbs and responds to it.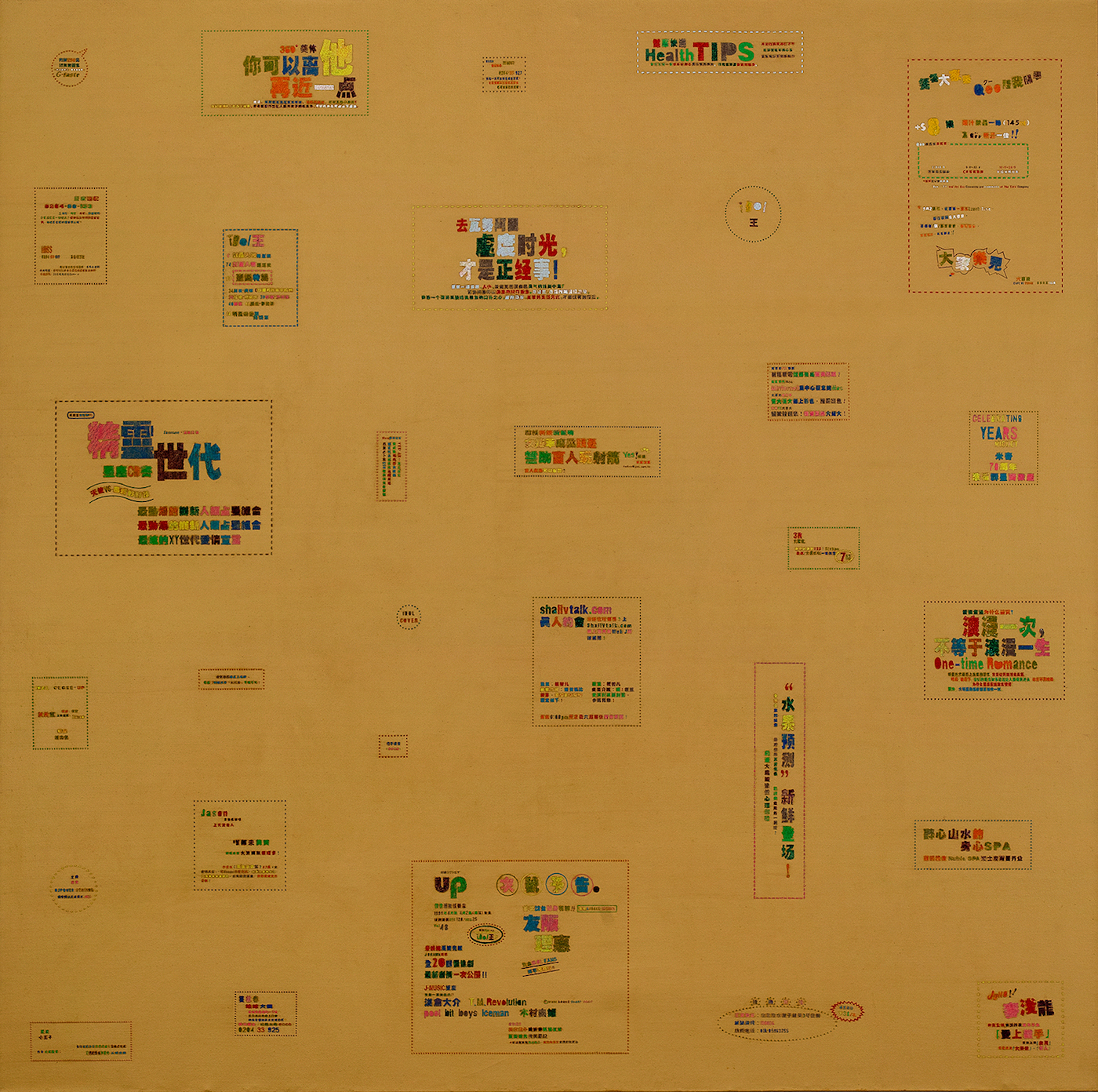 Zheng Guogu
The Universe is Expanding, the World is Getting Compressed
2016-2021
Computer cut texts, oil on canvas, gold powder, sanding
198 × 198 cm




Image
Corresponding to text as a form of media information is an era of images that has emerged along with the flow of consumption and information. Zheng Guogu's Ten Thousand Customers (1997-2005) series makes reference to this. It is worth highlighting that the series involves a certain amount of handicraft: the black surface of the photo paper is carefully peeled off by hand to create the space between the negatives. Given the fact that images can be highly compressed and endlessly reproduced nowadays, the handmade details of the work give rise to a certain nostalgic bodily sense.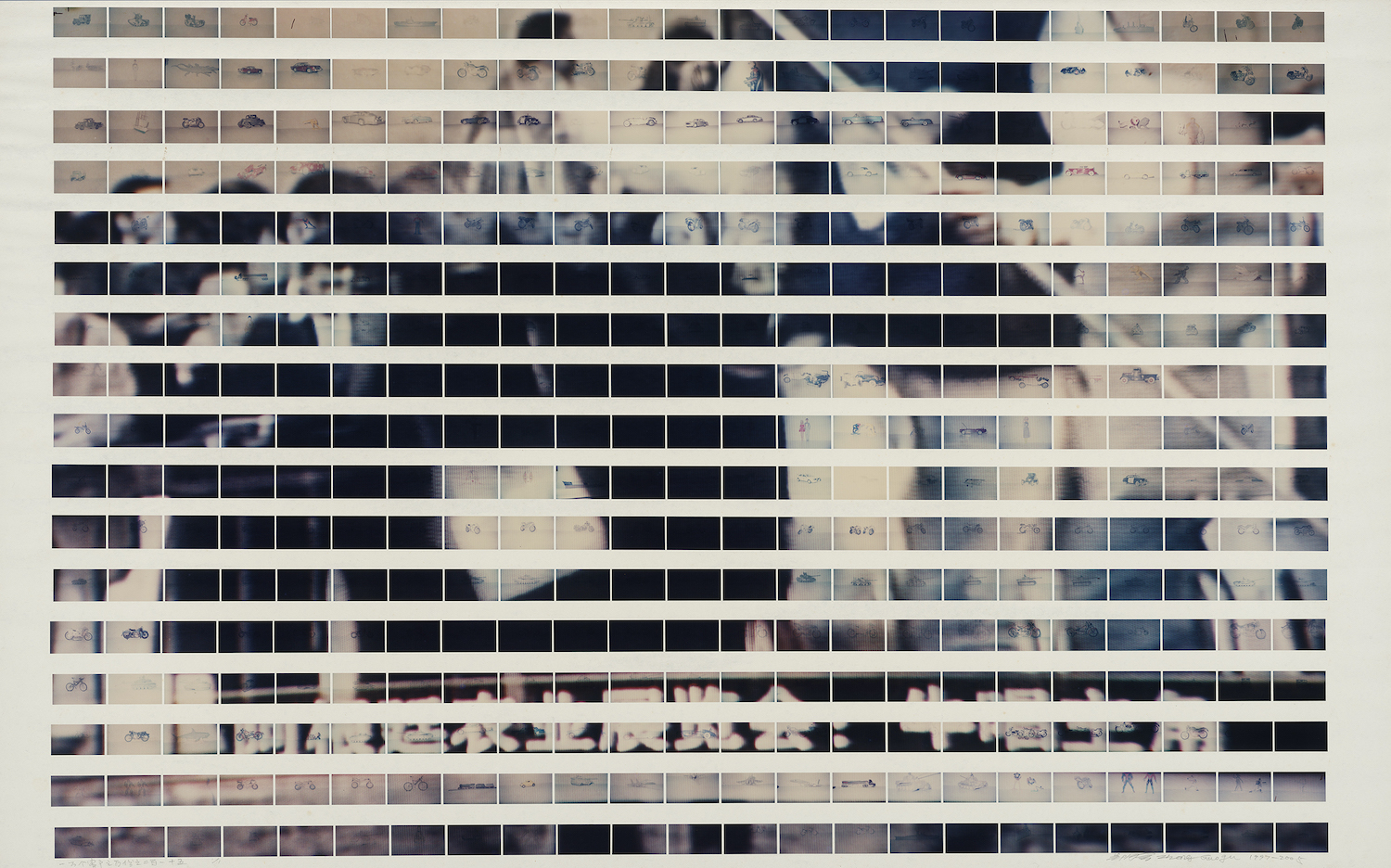 Zheng Guogu
Ten Thousand Customers 215
1997-2005
Handmade models, photos, TV screen image, projection, C-print, and handmade paper-carving on photographic paper
60 × 100 cm


Painting and Calligraphy
What is the relationship between the energy of text and the body? Zheng Guogu's interest in the system of information/energy with symbols as its medium is also reflected in his artmaking as a member of Yangjiang Group. For Zheng, turning his solo production into a collective one is yet another experiment with his consciousness, painting medium and technique. Yangjiang Group attempts to restore the vitality of handwriting by transforming classic scripts and text excerpted from news and consumer catalogues into spontaneous calligraphic work.
To make sense of the way people renew their relationship with the world, Zheng looks into how technologies in different times and cultures can overlap and how they can be "blended together". He makes use of the characteristics of today's media environment using digital technologies on the one hand and preserves traditional painting techniques and handicrafts on the other. As a result, different materials and consciousnesses intertwine at the same time and space on his canvas.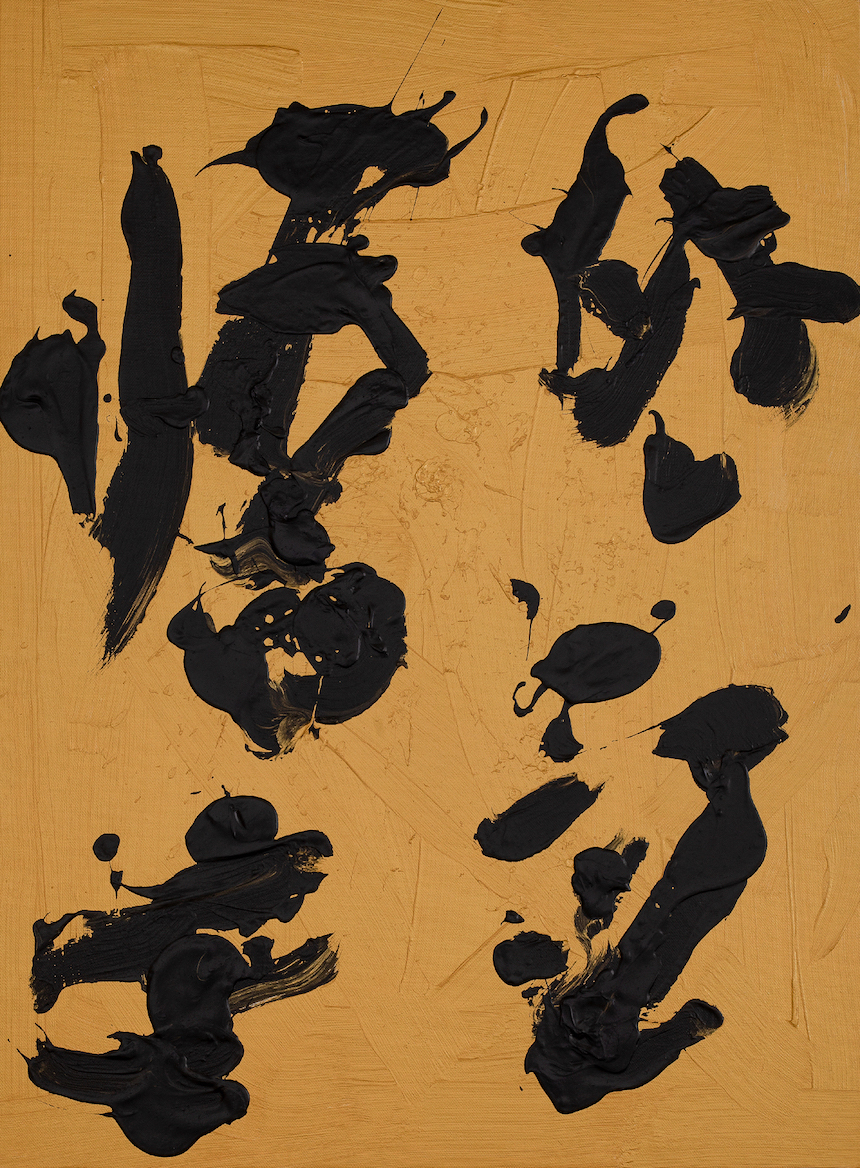 Yangjiang Group
Self-Deliverance When Enlightened
2021
Calligraphy, acrylic on canvas
Gold acrylic paint was applied on canvas as a base layer. Before the base layer was air-dried, with black acrylic paint using a specially made paintbrush, associated with splashing gestures, a phrase "awakening to self-deliverance" (Platform Sutra of the Sixth Patriarch) was written on top of it.
130 × 96 cm
Courtesy of the Artist and Permagate Space